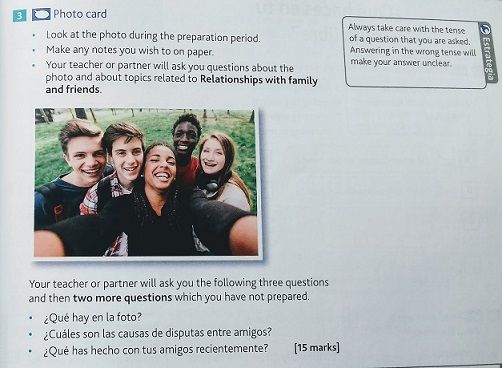 If you are preparing for your GCSE AQA Exam, here is a little practice for your oral exam:
First question:
This is the family topic so you always have to relate your answer to the topic, be precise and don't waste time.
"En esta foto veo un grupo de amigos, posiblemente de mi edad, que están haciéndose un selfie en el parque. Parecen muy contentos lo que me hace pensar que se llevan muy bien y tiene una buena relación entre ellos."
Second question:
"Son muchas las causas por las que los amigos suelen discutir, pero personalmente pienso que las más comunes son que pasan demasiado tiempo juntos y eso lleva a desacuerdos y riñas. Por otra parte también son motivo de discusiones las redes sociales y las publicaciones en instagram o snapchat, algunas veces pueden hacer daño o discriminar a algunas personas y eso, por supuesto, lleva a desacuerdos, peleas y pérdidas de amigos"
Third question: This question is written in the present perfect, so you have to use it and combine it with other past tenses
" Ultimamente no he salido mucho mucho con mis amigos porque estoy estudiando para mis exámenes pero este fin de semana hemos salido a cenar a una pizzeria en el centro y luego hemos ido a dar una vuelta. Mi amiga se ha comprado unos pantalones y yo le he comprado un CD a mi hemano porque el próximo domingo es su cumpleaños y vamos a celebrarlos en casa. Ha estado genial tener tiempo para olvidar los exámenes"
Possible extra questions:
¿Podrías describir a tu mejor amigo? ¿qué cosas le fustan y que cosas no le gustan?
¿Qué es lo que más valoras en la amistad?
¿Cómo describirías a una mal amigo?