Andrew Smithurst, Brand Chief Executive Officer of Cardinal Maritime 
"You are very patient  and an excellent teacher. Thanks for all your help".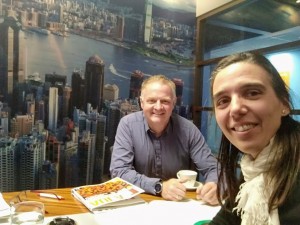 Alex Spreece,  6th form student
Maria began teaching me Spanish in January 2015; I had received my mock results which were disappointing. I decided to have extra tuition to help with my Spanish studies, after my first lesson with Maria I felt my enthusiasm and confidence grow. Maria has helped me to gain confidence in speaking and writing, my grades have improved immensely.
My teachers at college are impressed and pleased with my progression in the language. I am able to use the language confidently and hold a conversation fluently. A year ago I did not have the ability or the self-confidence to speak publically or in the classroom environment, whereas now I do this with ease.
Maria is extremely professional, but at the same time she is able to nurture and help her students feel at ease. The way Maria teaches she has helped fill the gaps within my college education.
I personally would be delighted to have her teach me as I feel she is capable of helping students achieve the highest grade possible.
Katherine Fitzpatrick
I began lessons with Maria in March 2015. I was a complete beginner and decided to start lessons because we go abroad to Spain every year and also my best friend Eli is Spanish and I'd like to be able to converse with her in Spanish.
The lessons are always highly structured and well thought out. Maria plans every lesson in advance and they are always enjoyable.
Already in my first year, I have covered all tenses giving me the perfect tools to hold a conversation, and we build up new vocabulary all the time. The lessons involve a mixture of speaking, writing, reading and listening so all bases are covered.
I can now comfortably hold a conversation in Spanish, all text messages between myself and Eli are sent in Spanish, and she is very impressed with the progress I've made in just over a year.
What's more, Maria is friendly, patient and likeable making every lesson enjoyable, I look forward to it every week!
Mina and Zoha, Stretford Grammar School and primary school students, daughters of Abbas Compton
An excellent and friendly tutor. Maria is always on time and very professional. She has been tutoring my two daughters for the past couple of years. Her lessons are fun and productive and that's probably why both my daughters look forward their Spanish lesson every week. I would fully recommend Maria to anyone wishing to learn or needing help in Spanish.
Emma Shields, 6th form student
"Having Maria for extra Spanish tuition really helped develop my Spanish speaking skills and helped to improve my final overall A-Level grade in Spanish. Maria is very friendly and will always explain if you have made a mistake. Her tuition was in a relaxed setting and it was very flexible as to what I wanted to practice with her. I am very grateful for the extra tuition I received off Maria as I now feel more confidence with speaking Spanish."
Amy Colclough
Me and my mum decided to learn a language and found Maria on the internet. She held the lessons at her home which was always a nice calm space. Maria works at your pace and talks you through anything you do not understand, taking extra time to ensure you are using words correctly and saying them the correct way including rolling your r's which me and mum found hilarious. We didn't progress past introduction level stuff due to other other commitments, meaning we didn't have the time anymore, but I would go back to Maria if I were in a position to resume my learning.
Peter Lazenby
I took additional lessons with María to supplement my Spanish language studies. She's a native speaker. Her lessons were enjoyable, interesting, and well directed to my level of Spanish. Learning with her is never a chore. She's attentive and friendly, and I received explanation, encouragement, and personalised one-to-one teaching which was well planned, thoughtful, and with appropriate resources. ¡Gracias María!
Mervyn Harris
Spanish has been a hobby of mine for many years, but as I'm now living part of the year in Spain, I needed to improve my conversational skills.
Maria was able to tailor our weekly sessions to exactly what I needed and at exactly the correct level.  My conversational Spanish has improved immeasurably as a result, and the fact that Maria was a native Spanish speaker has really helped to improve my accent.
I've had a number of Spanish teachers over the years, but Maria has, without doubt, been the best of them.
Jill, Matt's mother, GCSE student at Altrincham Grammar School for Boys
"We were looking for a Spanish tutor to help my son with his GCSE work and Maria was the perfect choice".